Code
Share the link to this product
Complete the form below to send the product details to your colleague, client or friend.
Delicate arches and simple cylinders in a family of lights which can be used singly or in clusters of brilliance. Aluminium heads with acrylic diffusers. 
Create your own custom suspension light combining them individually or with our selection of canopies.
DRIVERS:
671000034 : (Min. 2x6,1W - Max. 3x 6,1W) 350mA / 230V / Dimmable Triac Ø 55mm drill on dropped ceiling
671000038 : (Max. 1x 6,1W) 24V & 350mA / 100V - 240V / Non dimmable Ø 40mm drill on dropped ceiling
671000043 : (2x6,1W) 350mA / 230V / Dimmable Triac Ø 80mm drill on dropped ceiling
671000061 : (Max. 1x10W) 350mA / 230V / Dimmable Triac Ø 45mm drill on dropped ceiling
671000056 : DRIVER DALI UPON REQUEST
(Min. 1x6,1W - Max. 3x6,1W)350mA / 230V / DALI Dimmable Ø 40mm drill on dropped ceiling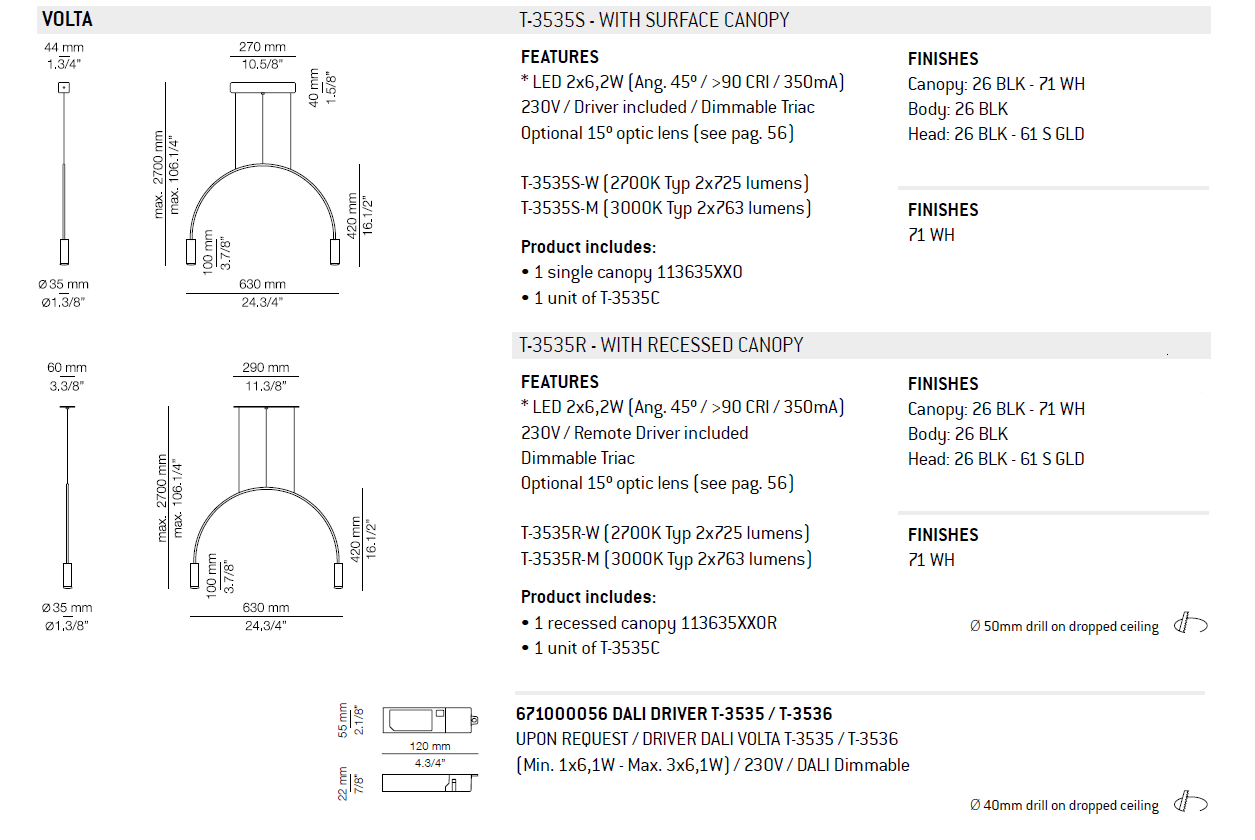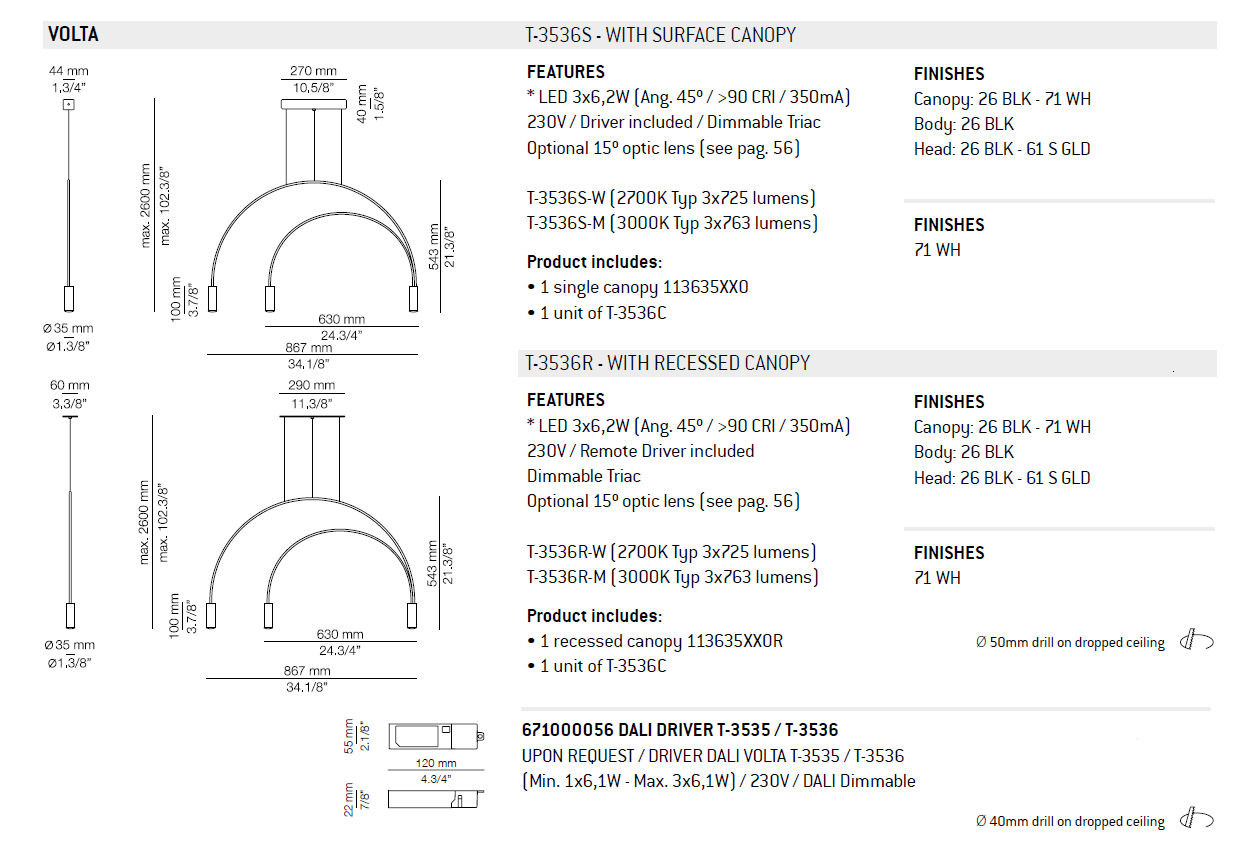 T-3535S
Driver included / Dimmable Triac
Product includes:
• 1 single canopy 113635XX0
• 1 unit of T-3535C
T-3535R 
Remote Driver included Dimmable Triac
Product includes:
• 1 recessed canopy 113635XX0R
• 1 unit of T-3535C
T-3536S
Driver included / Dimmable Triac
Product includes:
• 1 single canopy 113635XX0
• 1 unit of T-3536
T-3536R 
Remote Driver included Dimmable Triac
Product includes:
• 1 recessed canopy 113635XX0R
• 1 unit of T-3536C
Please follow the links below to see the other available items in the same range:
VOLTA WALL & CEILING LIGHT [A-3533]
DESCRIPTION

Delicate arches and simple cylinders in a family of lights which can be used singly or in clusters of brilliance. Aluminium heads with acrylic diffusers. 

Create your own custom suspension light combining them individually or with our selection of canopies.

DRIVERS:

671000034 : (Min. 2x6,1W - Max. 3x 6,1W) 350mA / 230V / Dimmable Triac Ø 55mm drill on dropped ceiling

671000038 : (Max. 1x 6,1W) 24V & 350mA / 100V - 240V / Non dimmable Ø 40mm drill on dropped ceiling

671000043 : (2x6,1W) 350mA / 230V / Dimmable Triac Ø 80mm drill on dropped ceiling

671000061 : (Max. 1x10W) 350mA / 230V / Dimmable Triac Ø 45mm drill on dropped ceiling

671000056 : DRIVER DALI UPON REQUEST

(Min. 1x6,1W - Max. 3x6,1W)350mA / 230V / DALI Dimmable Ø 40mm drill on dropped ceiling

T-3535S

Driver included / Dimmable Triac

Product includes:

• 1 single canopy 113635XX0

• 1 unit of T-3535C




T-3535R 
Remote Driver included Dimmable Triac

Product includes:

• 1 recessed canopy 113635XX0R

• 1 unit of T-3535C




T-3536S

Driver included / Dimmable Triac

Product includes:

• 1 single canopy 113635XX0

• 1 unit of T-3536




T-3536R 
Remote Driver included Dimmable Triac

Product includes:

• 1 recessed canopy 113635XX0R

• 1 unit of T-3536C




Please follow the links below to see the other available items in the same range:

VOLTA WALL & CEILING LIGHT [A-3533]