CUPOLINA SINGLE PENDENT LIGHT [T-3934] by ESTILUZ
Code
Share the link to this product
Complete the form below to send the product details to your colleague, client or friend.
by Boti de Dominicis Studio
There has been no element more significant, more present and more symbolic throughout history than a dome, which for centuries has represented heaven on earth. Now this symbolism is merged with modernity to create Cupolina, a collection of timeless lights where the dome is the source of light.
CUPOLINA is available as a FLOOR LAMP, TABLE LAMP, WALL LAMP, SINGLE PENDANT and PENDENT LIGHT, all of which have the same common element, a small dome from which the light emerges. It is combined with different metal structures to adapt it to each space and to each need. Cupolina's rounded lines are always proportionate and balanced, creating elegant and versatile lamps which are designed to enrich the space in which they are placed. All models are available in white, black and terracotta.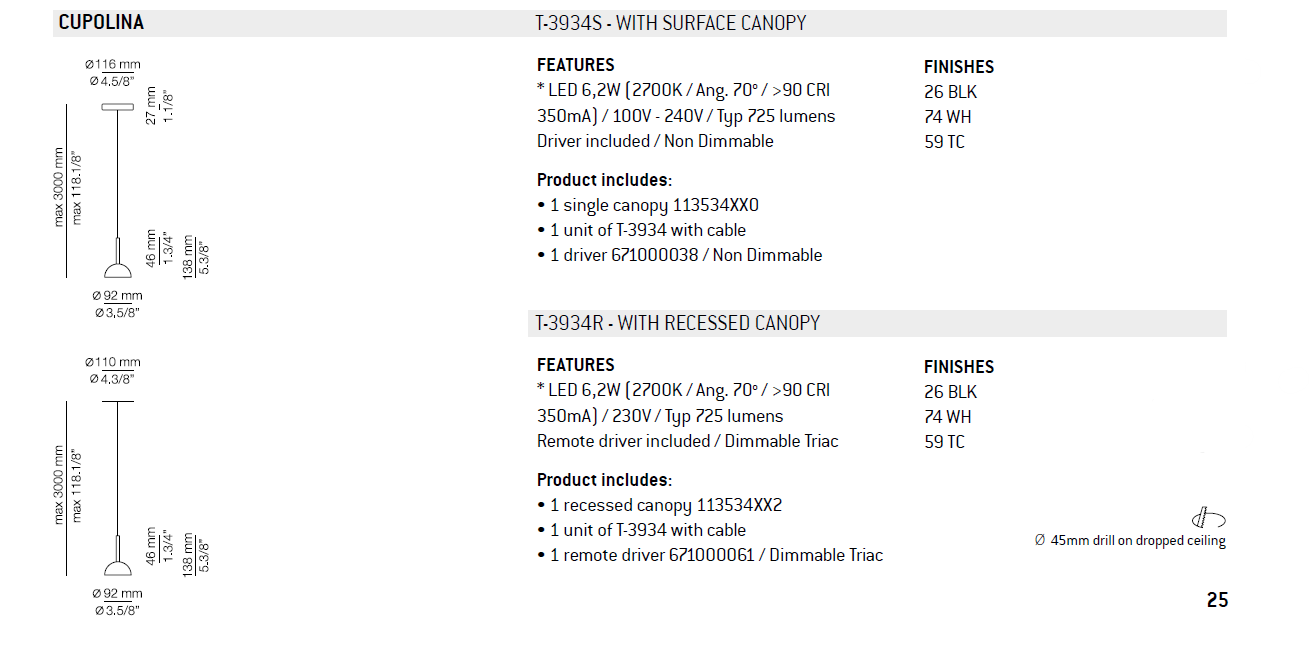 DRIVERS: 
671000038 : (Max. 1x 6,1W) 24V & 350mA / 100V - 240V / Non dimmable
671000061 : (Max. 1x10W) 350mA / 230V / Dimmable Triac Ø 45mm drill on dropped ceiling
671000056 : DRIVER DALI UPON REQUEST - (Min. 1x6,1W - Max. 3x6,1W)350mA / 230V / DALI Dimmable Ø 40mm drill on dropped ceiling
T-3934S
Product includes:
• 1 single canopy 113534XX0
• 1 unit of T-3934 with cable
• 1 driver 671000038 / Non Dimmable
T-3934R
Product includes:
• 1 recessed canopy 113534XX2
• 1 unit of T-3934 with cable
• 1 remote driver 671000061 / Dimmable Triac
DESCRIPTION

by Boti de Dominicis Studio

There has been no element more significant, more present and more symbolic throughout history than a dome, which for centuries has represented heaven on earth. Now this symbolism is merged with modernity to create Cupolina, a collection of timeless lights where the dome is the source of light.

CUPOLINA is available as a FLOOR LAMP, TABLE LAMP, WALL LAMP, SINGLE PENDANT and PENDENT LIGHT, all of which have the same common element, a small dome from which the light emerges. It is combined with different metal structures to adapt it to each space and to each need. Cupolina's rounded lines are always proportionate and balanced, creating elegant and versatile lamps which are designed to enrich the space in which they are placed. All models are available in white, black and terracotta.

DRIVERS: 

671000038 : (Max. 1x 6,1W) 24V & 350mA / 100V - 240V / Non dimmable

671000061 : (Max. 1x10W) 350mA / 230V / Dimmable Triac Ø 45mm drill on dropped ceiling

671000056 : DRIVER DALI UPON REQUEST - (Min. 1x6,1W - Max. 3x6,1W)350mA / 230V / DALI Dimmable Ø 40mm drill on dropped ceiling




T-3934S

Product includes:

• 1 single canopy 113534XX0

• 1 unit of T-3934 with cable

• 1 driver 671000038 / Non Dimmable




T-3934R

Product includes:

• 1 recessed canopy 113534XX2

• 1 unit of T-3934 with cable

• 1 remote driver 671000061 / Dimmable Triac