CIRC FLUSH LIGHT [t-381] by ESTILUZ
Code
Share the link to this product
Complete the form below to send the product details to your colleague, client or friend.
by Nahtrang Studio
Circ is an indoor and outdoor lamp designed from a sphere of enveloping light, which dialogues with different wrought iron supports to configure the identity of each element of the collection. An identity based on asymmetry and balance, on the emotion generated by a calculated improvisation that invites to participating in the game.
The versions of Circ for outside are manufactured from a resistant screen of polyethylene, whereas the versions for inside incorporate the glass. The portable model incorporates a six-hour battery, equipped with a comfortable charge through induction.
Creating a spectacular effect with two rings of light, this dramatic modern chandelier for large spaces and high ceilings can be suspended or flush mounted in his ceiling version t-3810AS / t-3811AS.
All its versions are also available without acoustic panels T-3815 / T-3816
Metal pendant with glass shades and integrated dimmable LED. 
Possibility to create different compositions combining this suspension lamps with t-3810 / t-3811 ceiling lights.
T-3815S / T-3816S: Model with surface canopy of 30cm diameter.
T-3815R / T-3816R: Model with recessed canopy of 12cm diameter. False ceiling is required to place the remote driver.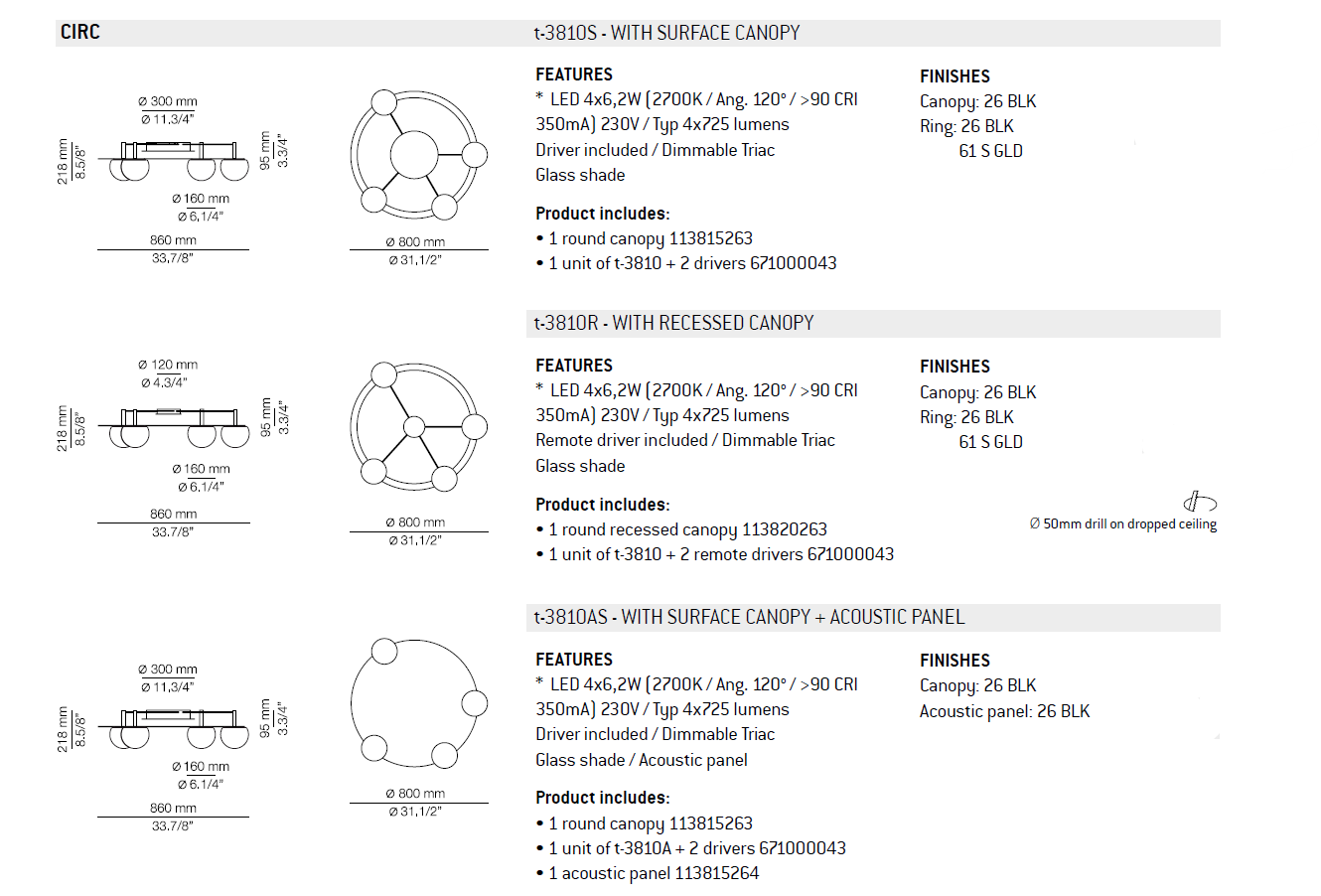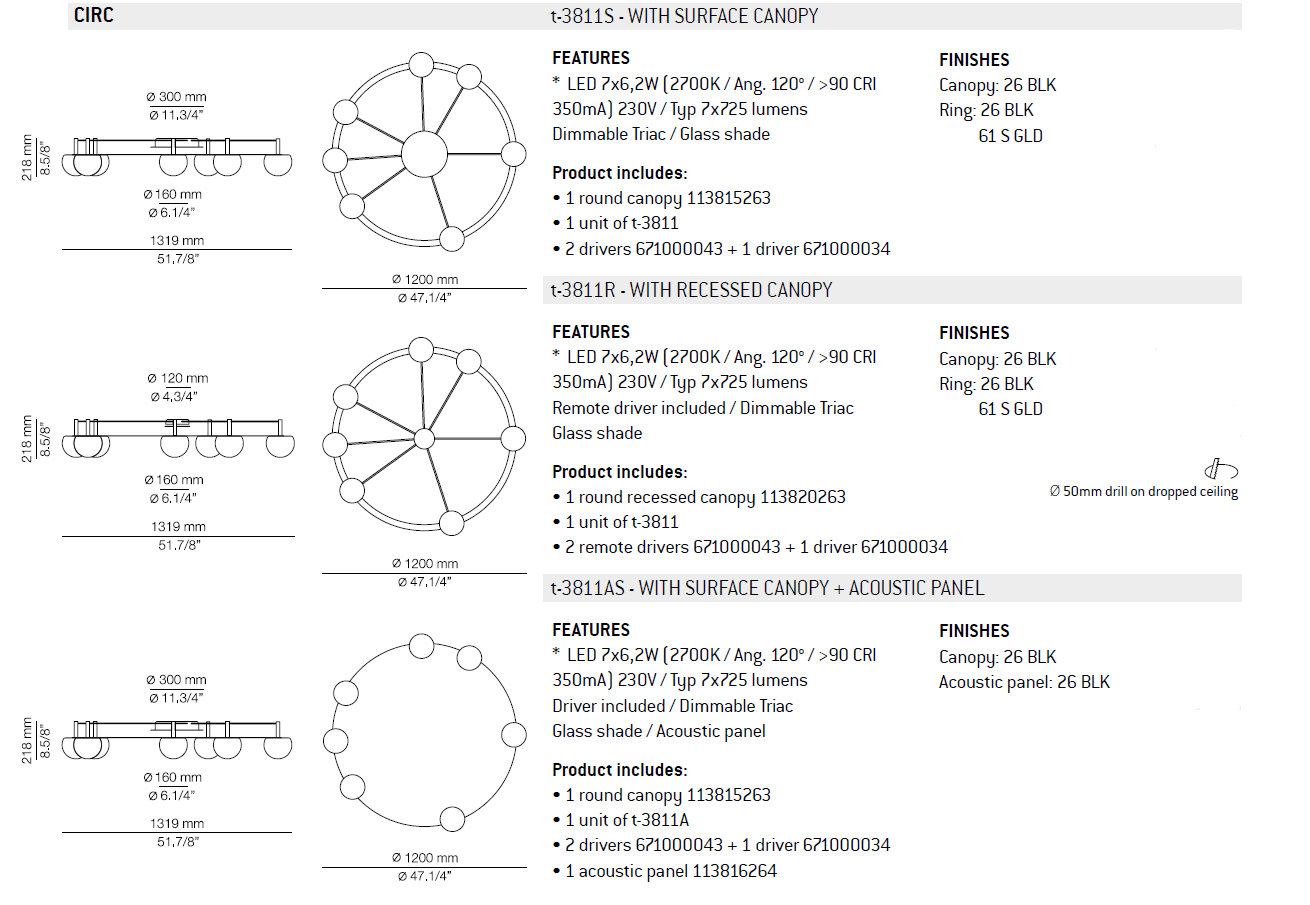 DRIVERS:
671000034 : (Min. 2x6,1W - Max. 3x 6,1W) 350mA / 230V / Dimmable Triac Ø 55mm drill on dropped ceiling
671000043 : (2x6,1W) 350mA / 230V / Dimmable Triac Ø 80mm drill on dropped ceiling
671000056 : DRIVER DALI UPON REQUEST for 6,2W (Min. 1x6,1W - Max. 3x6,1W)350mA / 230V / DALI Dimmable Ø 40mm drill on dropped ceiling
t-3810S  - 6,2W
Product includes:
• 1 round canopy 113815263
• 1 unit of t-3810 + 2 drivers 671000043 
t-3810R - 6,2W
Product includes:
• 1 round recessed canopy 113820263
• 1 unit of t-3810 + 2 remote drivers 671000043
t-3810AS - 6,2W
Product includes:
• 1 round canopy 113815263
• 1 unit of t-3810A + 2 drivers 671000043
• 1 acoustic panel 113815264
t-3811S - 6,2W
Product includes:
• 1 round canopy 113815263
• 1 unit of t-3811
• 2 drivers 671000043 + 1 driver 671000034
t-3811R - 6,2W
Product includes:
• 1 round recessed canopy 113820263
• 1 unit of t-3811
• 2 remote drivers 671000043 + 1 driver 671000034
t-3811AS - 6,2W
Product includes:
• 1 round canopy 113815263
• 1 unit of t-3811A
• 2 drivers 671000043 + 1 driver 671000034
• 1 acoustic panel 113816264
Please follow the links below to see the other available items in the same range:
CIRC CEILING APPLIQUE LIGHT [t-3832]
CIRC CEILING SPIDER LIGHT [t-382]
CIRC WALL INDOOR LIGHT [A-3722]
CIRC WALL INDOOR LIGHT [A-3720]
CIRC WALL OUTDOOR LIGHT [A-3720X]
CIRC WALL OUTDOOR LIGHT [A-3722X]
CIRC FLOOR INDOOR LIGHT [p-3729]
CIRC FLOOR OUTDOOR LIGHT [p-3729X]
CIRC TABLE INDOOR LIGHT [M-3728]
CIRC TABLE INDOOR LIGHT [M-3725]
CIRC TABLE OUTDOOR LIGHT [M-3728X]
CIRC TABLE OUTDOOR LIGHT [M-372]
CIRC TABLE OUTDOOR LIGHT [M-3725X]
DESCRIPTION

by Nahtrang Studio

Circ is an indoor and outdoor lamp designed from a sphere of enveloping light, which dialogues with different wrought iron supports to configure the identity of each element of the collection. An identity based on asymmetry and balance, on the emotion generated by a calculated improvisation that invites to participating in the game.

The versions of Circ for outside are manufactured from a resistant screen of polyethylene, whereas the versions for inside incorporate the glass. The portable model incorporates a six-hour battery, equipped with a comfortable charge through induction.

Creating a spectacular effect with two rings of light, this dramatic modern chandelier for large spaces and high ceilings can be suspended or flush mounted in his ceiling version t-3810AS / t-3811AS.

All its versions are also available without acoustic panels T-3815 / T-3816

Metal pendant with glass shades and integrated dimmable LED. 

Possibility to create different compositions combining this suspension lamps with t-3810 / t-3811 ceiling lights.

T-3815S / T-3816S: Model with surface canopy of 30cm diameter.

T-3815R / T-3816R: Model with recessed canopy of 12cm diameter. False ceiling is required to place the remote driver.




DRIVERS:

671000034 : (Min. 2x6,1W - Max. 3x 6,1W) 350mA / 230V / Dimmable Triac Ø 55mm drill on dropped ceiling

671000043 : (2x6,1W) 350mA / 230V / Dimmable Triac Ø 80mm drill on dropped ceiling

671000056 : DRIVER DALI UPON REQUEST for 6,2W (Min. 1x6,1W - Max. 3x6,1W)350mA / 230V / DALI Dimmable Ø 40mm drill on dropped ceiling




t-3810S  - 6,2W

Product includes:

• 1 round canopy 113815263

• 1 unit of t-3810 + 2 drivers 671000043 




t-3810R - 6,2W

Product includes:

• 1 round recessed canopy 113820263

• 1 unit of t-3810 + 2 remote drivers 671000043




t-3810AS - 6,2W

Product includes:

• 1 round canopy 113815263

• 1 unit of t-3810A + 2 drivers 671000043

• 1 acoustic panel 113815264




t-3811S - 6,2W

Product includes:

• 1 round canopy 113815263

• 1 unit of t-3811

• 2 drivers 671000043 + 1 driver 671000034




t-3811R - 6,2W

Product includes:

• 1 round recessed canopy 113820263

• 1 unit of t-3811

• 2 remote drivers 671000043 + 1 driver 671000034




t-3811AS - 6,2W

Product includes:

• 1 round canopy 113815263

• 1 unit of t-3811A

• 2 drivers 671000043 + 1 driver 671000034

• 1 acoustic panel 113816264




Please follow the links below to see the other available items in the same range:

CIRC CEILING APPLIQUE LIGHT [t-3832]

CIRC CEILING SPIDER LIGHT [t-382]

CIRC WALL INDOOR LIGHT [A-3722]

CIRC WALL INDOOR LIGHT [A-3720]

CIRC WALL OUTDOOR LIGHT [A-3720X]

CIRC WALL OUTDOOR LIGHT [A-3722X]

CIRC FLOOR INDOOR LIGHT [p-3729]

CIRC FLOOR OUTDOOR LIGHT [p-3729X]

CIRC TABLE INDOOR LIGHT [M-3728]

CIRC TABLE INDOOR LIGHT [M-3725]

CIRC TABLE OUTDOOR LIGHT [M-3728X]

CIRC TABLE OUTDOOR LIGHT [M-372]

CIRC TABLE OUTDOOR LIGHT [M-3725X]