BUTTON SINGLE PENDENT LIGHT [T-3302] by ESTILUZ
Code
Share the link to this product
Complete the form below to send the product details to your colleague, client or friend.
Metallic suspension lamp with aluminium shade and integrated dimmable LED. Adjustable height and individual canopy, suitable for creating compositions.
Ideal for the living room, dining room, bedroom, bar and restaurant areas, reception desk, kitchen island, counter and retail shop.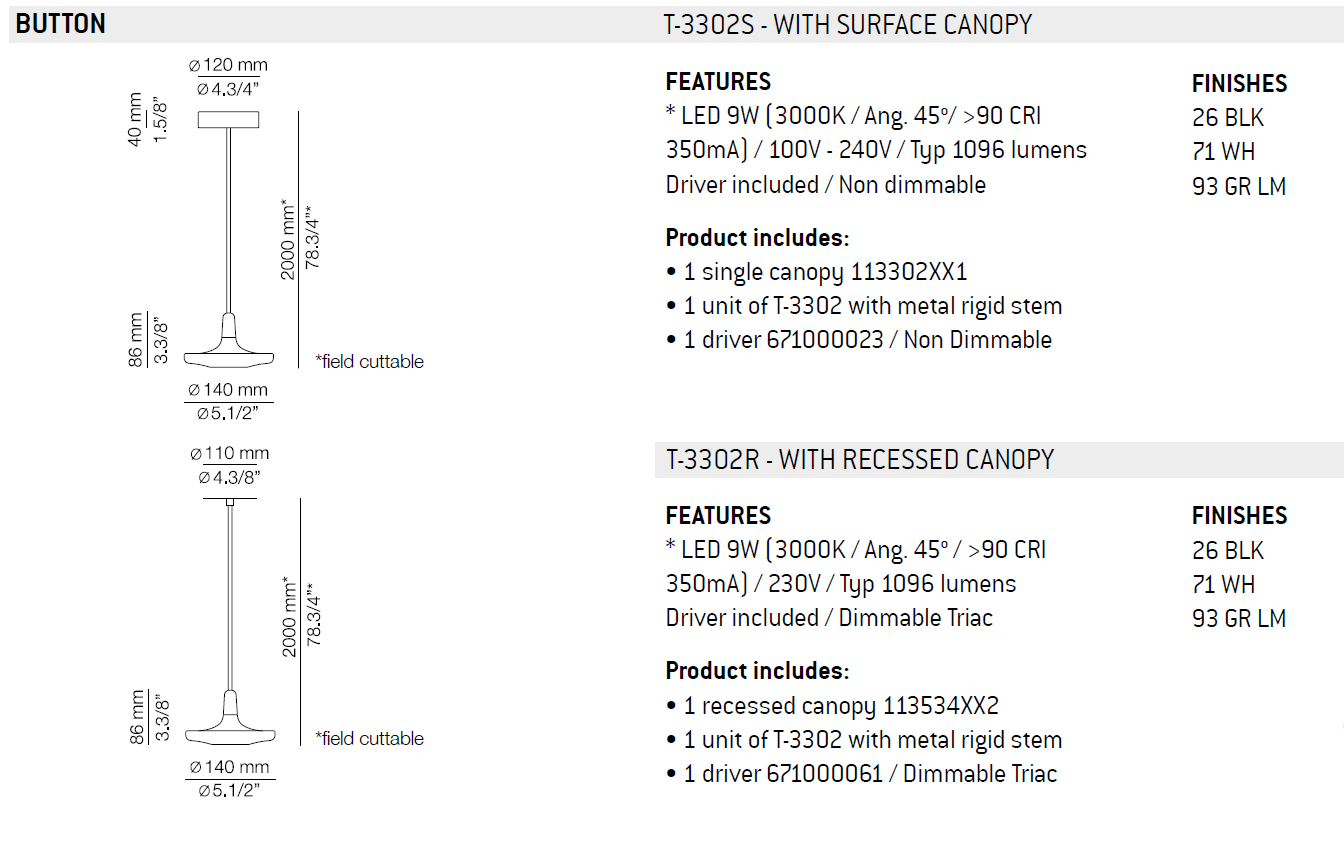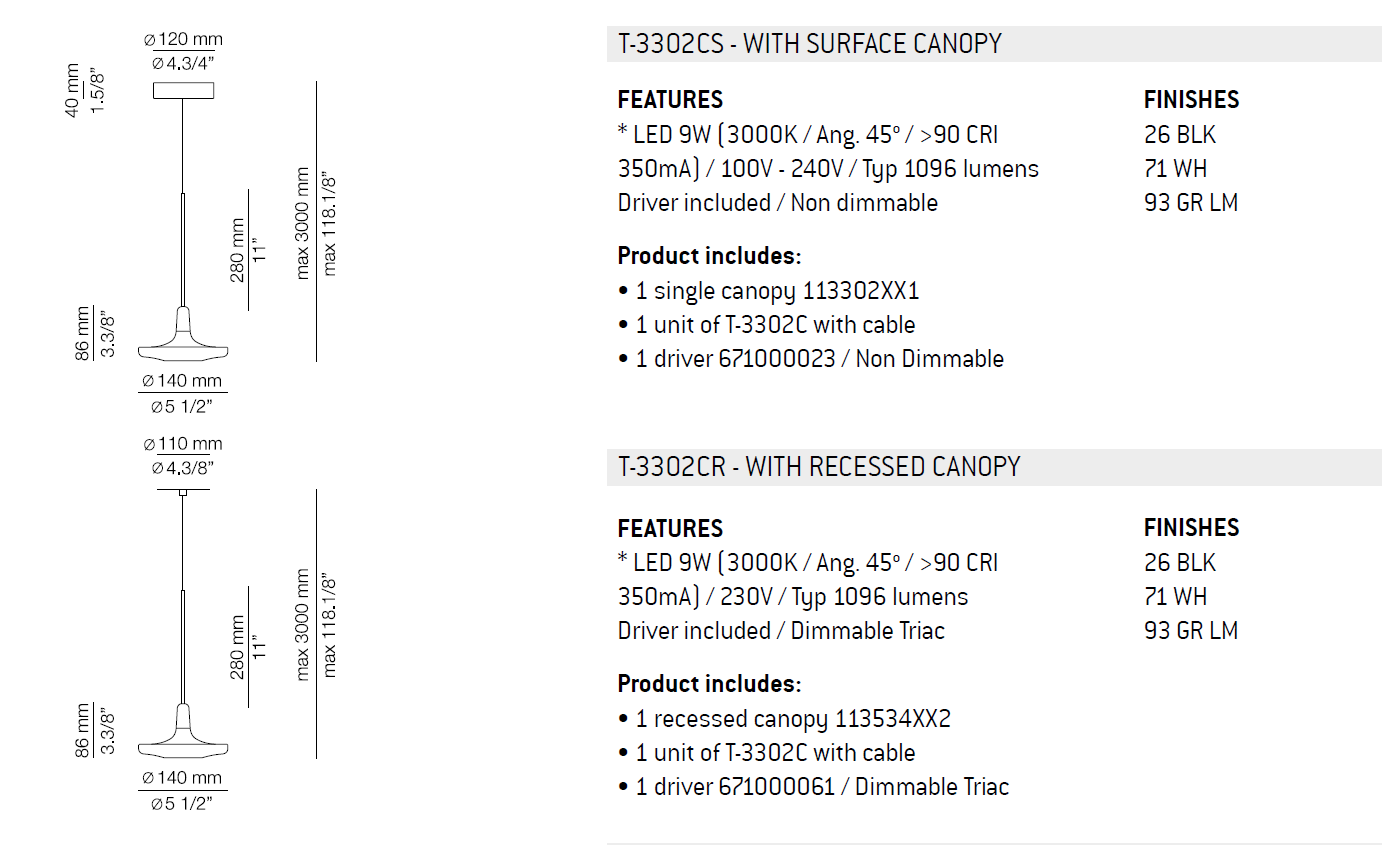 T-3302S - WITH SURFACE CANOPY
Product includes:
• 1 single canopy 113302XX1
• 1 unit of T-3302 with metal rigid stem
• 1 driver 671000023 / Non Dimmable - (Max. 1x10W) / 100V - 240V
T-3302R - WITH RECESSED CANOPY
Product includes:
• 1 recessed canopy 113534XX2
• 1 unit of T-3302 with metal rigid stem
• 1 driver 671000061 / Triac Dimmable - (Max. 1x10W) / 230V
T-3302CS - WITH SURFACE CANOPY
Product includes:
• 1 single canopy 113302XX1
• 1 unit of T-3302C with cable
• 1 driver 671000023 / Non Dimmable - (Max. 1x10W) / 100V - 240V
T-3302CR - WITH RECESSED CANOPY
Product includes:
• 1 recessed canopy 113534XX2
• 1 unit of T-3302C with cable
• 1 driver 671000061 / Triac Dimmable - (Max. 1x10W) / 230V
Please follow the links below to see the other available items in the same range:
DESCRIPTION

Metallic suspension lamp with aluminium shade and integrated dimmable LED. Adjustable height and individual canopy, suitable for creating compositions.

Ideal for the living room, dining room, bedroom, bar and restaurant areas, reception desk, kitchen island, counter and retail shop.

T-3302S - WITH SURFACE CANOPY

Product includes:

• 1 single canopy 113302XX1

• 1 unit of T-3302 with metal rigid stem

• 1 driver 671000023 / Non Dimmable - (Max. 1x10W) / 100V - 240V




T-3302R - WITH RECESSED CANOPY

Product includes:

• 1 recessed canopy 113534XX2

• 1 unit of T-3302 with metal rigid stem

• 1 driver 671000061 / Triac Dimmable - (Max. 1x10W) / 230V




T-3302CS - WITH SURFACE CANOPY

Product includes:

• 1 single canopy 113302XX1

• 1 unit of T-3302C with cable

• 1 driver 671000023 / Non Dimmable - (Max. 1x10W) / 100V - 240V




T-3302CR - WITH RECESSED CANOPY

Product includes:

• 1 recessed canopy 113534XX2

• 1 unit of T-3302C with cable

• 1 driver 671000061 / Triac Dimmable - (Max. 1x10W) / 230V




Please follow the links below to see the other available items in the same range: